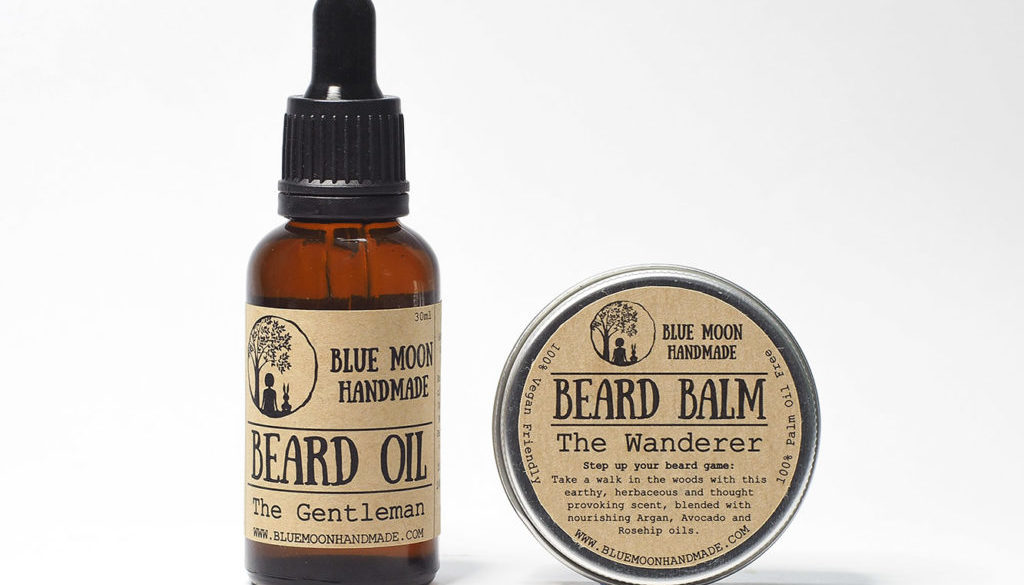 Here at Blue Moon Handmade we offer our signature beard blends in two different formats; beard oil and beard balm. Many of our customers are curious about the difference so today let's have a look.
Beard oil:
Beard oil is recommended for all beards. It is lightweight, non-greasy and absorbs quickly into hair and skin to moisturize, nourish and aid in grooming, helping to prevent itchy and flaky skin.
Each of our beard oils features a different oil blend with different properties and scents. Take for example our best-selling Wanderer and Gentleman blends, these medium-weight blends contain nourishing Avocado oil and are both great all-rounders for any beard.
For those looking for an extra lightweight blend we recommend our Dreamer and Scallywag blends, both designed to be super light and non greasy. The Scallywag features Tamanu oil, renowned for its skincare abilities while The Dreamer features an essential oil blend perfect for those prone to acne and oily skin.
For more intense moisturising of extra dry and itchy beards we recommend our Nudist and Optimist blends. The Nudist features cold pressed Gac fruit oil, a classic Vietnamese oil famous for its stunning red colour and skin loving properties. The Optimist on the other hand combines the maximum level of nourishment with an essential oil blend specifically designed to fight beardruff and encourage hair growth.
Our beard oils come in a 30ml glass bottle with a dropper for easy application. Just put a few drops in the palm of your hand and massage into your beard.

Beard Balm:
Our beard balms are a little different from the beard oils. To create them we take the exact same premium ingredients as in our beard oils and combine them with Shea butter and vegan wax to create a more solid product.
Being a solid product our balms are great for travelling. If you are on the road these balms fit neatly in your toiletries without the fuss of being scrutinized in airports like liquids. The aluminum containers are sturdy and convenient with the added bonus of being easily recycled.
Beard balms are also perfect for longer beards because the Candelilla wax we add helps give your beard some shape and is great for styling even the most unruly of beards. Another great benefit of this wax is that it adds a layer of protection to your skin that helps protect your beard from the elements.
Our beard balms come in a 30gm container. To apply simply rub some of the balm between your palms. Your body heat will melt the balm which can then be massaged into your beard.

Weather you are just starting your beard journey already wear one large enough to make Gandalf jealous, our products will keep your beard healthy and smelling great. Check out our full range of beard balms here for a healthy happy beard.

Still curious? check out this great article